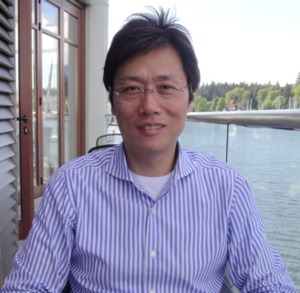 "Operation mechanism of TADF/hyperfluorescence OLEDs aimed for high stability‍"
Chihaya Adachi
九州大学有机光子学与电子学研究中心主任
Chihaya Adachi is a distinguished professor at KyushuUniversity and director of Kyushu University's Center for Organic Photonics andElectronics Research (OPERA). He is also program coordinator of KyushuUniversity's Advanced Graduate da Vinci Course on Molecular Systems for Devicesand director of the Fukuoka i3 center for Organic Photonics andElectronics Research. Chihaya Adachi obtained his doctorate in Materials Scienceand Technology in 1991 from Kyushu University and held positions as at theChemical Products R&D Center at Ricoh Co., the Department of FunctionalPolymer Science at Shinshu University, the Department of Electrical Engineeringat Princeton University, and Chitose Institute of Science and Technology beforereturning to Kyushu University as a professor.
Adachi's research combines the areas of chemistry,physics, and electronics to advance the field of organic light-emittingmaterials and devices from both the materials and device perspectives throughthe design of new molecules with novel properties, the study of processesoccurring in individual materials and complete devices, and the exploration ofnew device structures, and he has co-authored over 600 research papers.
Recent awards he has received include 24thNagoya of Organic Chemistry "The silver medal " (2019), Nishina Memorial Prize (2017) and ThomsonReuters Research Front Award (2016), and he was named a 2018・2019・2020・2021Highly Cited Researcher.