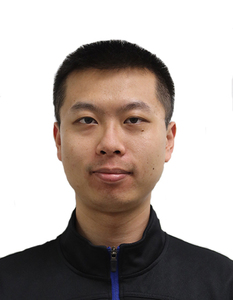 邓孙斌博士,本科毕业于华中科技大学光信息科学与技术专业,之后前往香港科技大学电子与计算机工程系深造(导师:郭海成教授),于2020年获得哲学博士学位。同年受到香港创新及科技基金"研究人才库"计划资助,在香港科技大学先进显示与光电子技术国家重点实验室担任博士后副研究员。其研究兴趣主要包括用于信息显示和传感器接口的金属氧化物薄膜晶体管技术,用于有机发光二极管显示的超高分辨率掩膜板的开发,以及强关联氧化物器件在神经元计算上的应用。邓博士已发表论文30余篇(其中11篇为第一作者),参与撰写专著一本,并申请专利八项。此外,邓博士也是2015年和2017年国际显示制程前瞻技术研讨会杰出论文奖,2016年和2018年两岸三地研究生显示技术研讨会最佳展示奖,以及2021年SID显示周杰出论文奖的获得者。
Dr. Sunbin Deng receivedhis B.S. degree in optical information science and technology from Huazhong University of Science and Technology (HUST), Wuhan, China in 2014 and Ph.D.degree (supervisor: Prof. Hoi-Sing Kwok) in electronic and computer engineering from Hong Kong University of Science and Technology (HKUST), Hong Kong in 2020.He is a presently postdoctoral research associate (supported by Research TalenHub of Hong Kong Innovation and Technology Fund) in the State Key Laboratory ofAdvanced Displays and Optoelectronics Technologies, HKUST. His current researchis focused on metal oxide thin-film transistors technologies for information displays and sensor interfaces, the development of ultra-high-resolution shadow masksfor OLED displays, and the application of strongly correlated oxide devices toneuromorphic computing.
Sunbin has co-authoredover 30 papers (including 11 first-authored papers papers) in prestigious peer-reviewed journals. He has also written 1 book chapter and applied for 8 patents. He wasa recipient of Distinguished Paper Award at International Display Manufacturing Conference (IDMC) in 2015 and 2017, Best Presentation Award in PostgraduateWorkshop on Display Research in 2016 and 2018, and Distinguished Paper Award atSID Display Week 2021.
--------------------------------------------------
复合晶型金属氧化物薄膜晶体管技术
随着显示技术的发展,有源矩阵背板中薄膜晶体管的技术标准越来越高。本次报告将简要介绍报告人近些年来通过材料、器件和工艺创新在不断改善金属氧化物薄膜晶体管性能方面所做的工作。首先,报告人通过协同调节元素组分和微观晶型,设计出复合晶型氧化铟锡锌薄膜,其电子霍尔迁移率超越了非晶对应物的理论上限。随后,报告人制备了基于各种器件结构的复合晶型氧化铟锡锌薄膜晶体管。例如,通过栅氧工程和栅电极工程,实现了用于低功耗透明电子的顶栅底接触全氧化物器件和用于高分辨率显示的具有亚微米沟长的垂直器件,并借此开发了由等离子增强化学气相沉积二氧化硅叠层组成的高质量栅介质层,以及提出了依靠栅电极透气性调节器件阈值电压的方法。通过采用不同类型等离子增强化学气相沉积二氧化硅的组合及差异化的退火策略,报告人进一步实现了具有良好电学特性和稳定性的自对准型器件。通过开发出的一种实用的氟化方法,让背栅薄膜晶体管在无需额外热退火处理的情形下也能表现出优异性能,助力显示器背板的低成本生产。最后,报告人将该复合晶型金属氧化物薄膜晶体管技术被转化到实际应用中,成功开发出2.2英寸AMOLED显示屏、低电压工作的全透明数字电路和高增益低噪声信号放大器。
Hybrid-Phase Metal Oxide Thin-Film TransistorTechnology
With the advance of display technologies, technical standards of thin-film transistors (TFTs) in active-matrix backplanes become increasinglyhigher. This talk will briefly introduce my efforts on continuing performance improvement of metal oxide (MO) TFTs via material, device and processing innovations.Initially, hybrid-phase indium-tin-zinc oxide(hp-ITZO) thin films were designed by modifying both element composition and crystal morphology. Their electron Hall mobility could surpass the theoretical upper limit of the amorphous counterparts. Afterwards, hp-ITZO TFTs withvarious structures were developed. For example, through gate insulator (GI)engineering and gate electrode (GE) engineering, top-gate bottom-contact deviceswith all-oxide layers and vertical devices with a sub-micron channel length were fabricated for energy-efficient transparent electronics and high-resolution displays, respectively. These devices employed a type of PECVD SiO2stacks as high-quality GIs and utilized the gas permeability of GEs as an effective tool to modulate their threshold voltage. By adopting a rational PECVD SiO2combination together with a differentiated annealing strategy, self-aligned TFTs with good electrical characteristics and robust stability were realized. By employing a useful fluorination method, bottom-gate etch-stopper TFTs that werefree of additional thermal annealing treatments were also reported for thecost-effective manufacturing of display panels.Finally, the hp-MO TFT technology was transferred to several practical applications. A 2.2-inch AMOLED display prototype, fully transparent low-voltage digital circuits, and high-gain low-noise amplifiers have been successfully demonstrated.