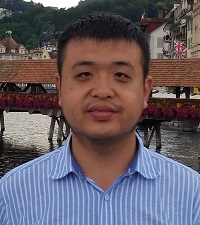 焦述铭,鹏城实验室助理研究员,2016年从香港城市大学获得电子工程博士学位,主要研究兴趣为信息工程和光学工程之间的交叉领域,包括全息三维成像与显示,单像素压缩感知成像,光信息处理,光学安全系统,光学计算,图像处理,机器学习等。曾获得2012年香港特区政府Hong Kong PhD Fellowship Scheme和2016年广东省"珠江人才计划"博士后资助项目。在Optics Letters, Optics Express, IEEE Transactions on IndustrialInformatics等国际知名期刊上以第一作者发表论文20余篇。2018年5月在中国光学工程学会举办的第二届国际三维图像获取与显示技术应用研讨会上获得优秀论文奖。2020年10月在国际信息显示学会(SID)举办的2020年国际显示技术大会(ICDT 2020)上获得优秀论文奖。担任Optics Letters, Optics Express, Photonics Research, Optica, IEEETransactions on Industrial Informatics, ICCV 2021等国内外期刊及会议的审稿人。目前主持国家自然科学基金青年项目"单像素成像中目标物体快速分类方法(61805145)"。
Dr. Shuming Jiao is currently an assistant professor in Peng Cheng Laboratory, Shenzhen, China. He received his PhD degree in electronic engineering from City University of Hong Kong in 2016. He hasbeen actively engaged in the interdisciplinary investigation between information engineering and optical engineering. His research interest includes holographic three-dimensional imaging and display, single-pixel compressive imaging, optical information processing, optical computing, image processing,information security and machine learning. He received Hong Kong PhD Fellowship Scheme (2012) and Postdoctoral Fellowship, Pearl River Talent Plan of Guangdong Province (2016). He has published more than 20 papers as the first author in peer-reviewed journals such as Optics Letters, Optics Express and IEEE Transactions on Industrial Informatics. He received Best Paper Award in International Conference on Three-dimensional Image Acquisition and Display Technology and Application 2018 (3DIADT 2018) organized by Chinese Society for Optical Engineering. He received Distinguished Paper Award in International Conferenceon Display Technology 2020 (ICDT 2020) organized by Society for Information Display. He is a reviewer for many international journals and conferences including Optics Letters, Optics Express, Photonics Research, Optica, IEEE Transactions on Industrial Informatics and IEEE International Conference on Computer Vision (ICCV 2021). He is the principal investigator for the research project "Fast target object classification methods in single pixel imaging"(National Natural Science Foundation of China, 61805145).

--------------------------------------------------
颜色同化网格视错觉在显示技术中的潜在应用
视错觉是指人类视觉感知的图像与物理现实有所不同的现象。发生视错觉时,人眼一定程度上被"欺骗"。视错觉在视觉科学,心理学,创意艺术和大众文化中得到了广泛的关注。但是,以前很少有研究将视错觉应用到技术领域,如图像处理,计算机视觉以及光学成像和显示。作为将信息技术与视错觉相结合的独特尝试,我们尝试将颜色同化网格视错觉与彩色显示技相结合。在这种视错觉中,包含灰度背景和过饱和彩色线(或点)网格的合成图像会被人眼当作是全彩色图像。这样,许多彩色像素可以用低成本的灰度像素代替,有利于降低器件加工成本和数据压缩。此外,这种伪全彩色图像中的相邻线或点的位置可以根据要隐藏的外部秘密数据的比特序列来编码。对于同一原始图像的视错觉合成图像,当嵌入不同的隐藏数据时,视觉上看起来很相似而不易察觉,这一特征可以用于显示内容的版权保护,所有权标识和溯源追踪。
Potential applications of colorassimilation grid illusion in display technology
Optical illusion (or visual illusion)refers to a phenomenon that the image perceived by human vision is different from the physical reality. Human eyes are "cheated" when an optical illusion occurs. Optical illusions receive much attention in vision science, psychology,creative arts and popular culture. But various optical illusions have been seldom investigated for technological applications such as image processing, computer vision and optical imaging & display previously. As a unique attempt of combining information technology with optical illusion, we attempt to combine color assimilation (or chromatic assimilation) grid illusion with color display. In this illusion, a synthesized image containing a grayscale background and a saturated color line (or point) grid will be perceived as a color image. Many color pixels can be replaced with low-cost grayscale pixels, which is favorable for reducing fabrication cost and compressing data. In addition, the positions of neighboring lines or points in such a pseudo color image can be encoded according to a sequence of bits, which represent embedded external secret data.For the same host image, it appears to be similar when different hidden data are embedded. This feature can be employed for copyright protection, ownership identification and source tracking of displayed content.