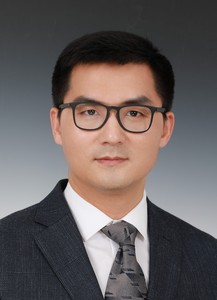 马儒军,2013年2月博士毕业于韩国成均馆大学纳米科技学院(导师:Seunghyun Baik教授),随后在该校能源科学学院与基础科学研究院从事博士后研究员的工作,并于2015年4月加入美国加州大学洛杉矶分校(UCLA)Qibing Pei教授课题组继续从事博士后研究员的工作。2018年9月加入南开大学材料科学与工程学院(教授、博导)。
近年来以通讯或第一作者在Science, Chemical Society Reviews,Advanced Materials, Nano Letters与ACS nano等国际著名期刊发表论文十余篇;授权美国与韩国专利5项,申请国际专利2项、中国专利5项。
科技部国家重点研发计划"变革性技术"重点专项课题负责人;主持国家自然科学基金国际交流项目与面上项目各1项。
Prof. Rujun Ma received his Ph. Dfrom the Institute of Nanotechnology of Sungkyunkwan University in Korea inFebruary 2013, and then worked as a postdoctoral researcher at the School ofEnergy Sciences and Basic Science of the same University. In April 2015, hejoined UCLA working as a postdoctoral researcher in the team of ProfessorQibing Pei. In September 2018, he joined the School of Materials Science andEngineering at Nankai University working as a professor.
In recent years, he has publishedmore than ten papers in internationally renowned journals such as Science,Chemical Society Reviews, Advanced Materials, Nano Letters and ACS nano as acorrespondence or first author; authorized 5 US and South Korean patents,applied for 2 international patents, and 5 Chinese patents.
The person in charge of the keyspecial project of the National Key R&D Program of the Ministry of Scienceand Technology of the "Transformative Technology"; presided over 1international exchange project and 1 general project of the National NaturalScience Foundation of China.
------------------------------------------------------
用于电子器件控温的薄膜热管理系统
当前,随着电子芯片集成度的不断提高,集成电路的总功耗呈指数级上升,芯片失效问题将越来越突出。在电子器件的各种失效现象中,热失效率约占55%。由此可见,芯片散热技术已经成为影响电子产业发展的重要制约因素。在现有散热技术的基础上,芯片冷却技术的发展是电子器件有效运行的重要保证。在这里,我们制备了一种使用柔性电卡聚合物薄膜和静电驱动机制的具有高固有热力学效率的冷却装置。[1] 可逆静电力的使用减少了寄生功率消耗,并通过与热源或散热片瞬时形成良好的热接触而实现了有效的热传递。薄膜电卡冷却装置具有柔性,可以贴合曲线表面。为了进一步提高冷却装置的电卡性能,通过使用掺有增塑剂而性能得到改善的柔性电卡聚合物复合薄膜,制备了双单元电卡聚合物的更高固有热力学效率制冷器件。[2] 此处展示的高效,紧凑的电卡冷却设备不仅超越了现有固态冷却技术的性能,而且使固态冷却更接近现实,可用于各种需要紧凑或机械灵活制冷的实际应用中。
Thin film thermal management system for temperature control of electronic devices
Nowdays, as the integration ofelectronic chips continues to increase, the total power consumption ofintegrated circuits has risen exponentially, and the problem of chip failurewill become more and more prominent. Among all the failure phenomena ofelectronic devices, the thermal failure rate accounts for about 55%. It can beseen that chip heat dissipation technology has been an important restrictivefactor affecting the development of the electronics industry. On the basis ofexisting heat dissipation technology, the development of cooling technology forchips is an important guarantee for the effective operation of electronicdevices. Here, we reported a cooling device with a high intrinsic thermodynamicefficiency using a flexible electrocaloric (EC) polymer film and anelectrostatic actuation mechanism. [1] The use of reversible electrostaticforces reduces parasitic power consumption and allows efficient heat transferthrough instantaneous formation of good thermal contacts with the heat sourceor sink. The thin-film EC cooling device is flexible and can conform tocurvilinear surfaces. To further improve the EC performance of cooling device,a double-unit EC polymer-based refrigeration device with high intrinsicthermodynamic efficiency was demonstrated using a flexible EC polymer film withimproved performance by doping plasticizer and an electrostatic actuationmechanism. [2] The highly efficient and compact EC cooling device demonstratedhere not only leapfrogs the performance of existing solid-state coolingtechnologies, but also brings solid state cooling closer to reality for avariety of practical applications that require compact or mechanically flexiblerefrigeration.
[1] R. Ma, Z. Zhang, K. Tong, D. Huber, R. Kornbluh, Y.S. Ju andQ. Pei, Science, 2017, 357, 1130.
[2] Y. Bo, Q. Zhang, H. Cui, M. Wang, C.Zhang, W. He, X. Fan, Y. Lv, X. Fu, J. Liang, Y. Huang, R. Ma and Y. Chen, Adv. Energy Mater.,2021, 2003771.