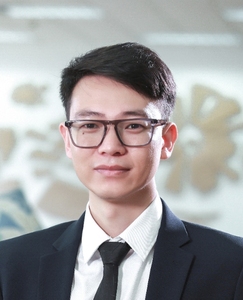 赵伟军,华东理工大学化学与分子工程学院,特聘研究员,入选上海市海外高层次人才计划及浦江人才计划。于2009年、2013年在北京师范大学大学化学学院获得学士和硕士学位;2017年于香港科技大学化学系获得博士学位,导师为唐本忠院士,随后留校继续3年的博士后研究工作。主要从事功能性有机固体发光材料的分子设计、光物理机理研究和应用开发,在高效有机室温磷光和刺激响应性固体智能发光这两个方面开展了系统深入的基础研究工作。至今以第一作者在Nat. Rev. Mater.、Chem、Nat. Commun. (4篇) 和Adv. Mater. (1篇) 国际期刊发表学术论文8篇,三篇ESI高被引论文,并获授权中国专利2项。
Weijun Zhao, Distinguished Research Fellow, School of Chemistry and Molecular Engineering, East China University of Science and Technology, was selected as a member of Shanghai Overseas High-Level Talents Program and Pujiang Talents Program. He received his bachelor and master degrees from the College of Chemistry, Beijing Normal University in 2009 and 2013. In 2017, he received his PhD degree from the Department of Chemistry,Hong Kong University of Science and Technology under the supervision of Professor Ben Zhong Tang, and then continued his postdoctoral research there for threeyears. He is mainly engaged in the molecular design, photophysical mechanism research and application development of functional organic solid luminescence materials. As the first author, he has published 8 academic papers in Nat. Rev. Mater., Chem, Nat. Commun. (4papers) and Adv. Mater. (2 paper),and 3 papers are selected as high ESI citation papers.
------------------------------------------------------------------
有机功能固体材料的发光机制研究与应用
高性能有机功能固体发光材料开发的难点和瓶颈是固态发光机制较为复杂,且不容易调控。所以,要实现通过分子设计分子得到指定结构和性能的新功能材料,还需要我们对有机固态光物理机制进行不断的努力探索。为此,我们开展了基于系间穿越相关激发态调控的有机功能性固体发光材料研究,侧重于分子结构设计、光物理机制研究和应用场景开发。主要发展了激发态轨道成分的量化分析方法,揭示有机磷光效率和寿命内在关联机制;调控分子构象激活分子内三线态-三线态能量转移,实现了超高效有机长寿命磷光材料;精准调控系间穿越过程发展高灵敏刺激响应发光新材料,开拓了金属器件力学性能的实时可视化检测应用。
Studyand application of luminescence mechanism of organic functional solid materials
The difficulty in the development of high performance organic solid luminescent materialsis due to the high complexity of solid-state luminescence mechanism. In orderto realize the new functional materials with specified structure and properties through molecular design, we still need to make continuous efforts to explorethe photophysical mechanism of organic solid materials. For this reason, wehave developed a series of new functional organic solid luminescent materialsbased on regulating intersystem crossing related excited states, focusing on molecular structure design, photophysical mechanism study and application development. Firstly, The quantitative analysis method of excited state orbital composition was developed to reveal the internal mechanism of organic phosphorescence;Then, regulating the molecular conformation to activate the intramolecular triplet-triplet state energy transfer, and efficient persistent phosphorescent materials were achieved; Highly sensitive stimulation-responsive luminescent materialswere designed by controlling intersystem crossing process, and the application of visual detection for mechanical properties of metal gadgets was successfully developed.